Scott "LB" Williams did not think he would start his own business and help define an entire industry, but that is exactly what he did. LB's small business is helping people to understand that the "dynamic networks" industry is about bringing your network, and thus internet connectivity, with you in every situation.
LB worked in the military for 18 years in Special Operations Command, developing his capacity to "break" and "fix" things. In 2012-13, he started a non-profit, anti-poaching project in South Africa. When connectivity issues arose, a 19-year-old student at the Purdue School of Engineering who wanted to "save the world", came to the rescue. Rahul Tiwari flew to South Africa where he met LB and his wife, Greta. LB provided a tethered drone concept to remedy the connectivity problem and Rahul made that concept work. Working together, LB, Greta and Rahul became like family. Rahul was soon able to build the TeleLift. The TeleLift is basically a "flying cell tower" whose application possibilities continue to be broadened and developed.
LB wasn't exactly planning to start a business, but with the encouragement and proposal assistance funding from both the Wisconsin Economic Development Corporation (WEDC) and the Center for Technology Commercialization (CTC), he applied for and won an SBIR contract with the US Air Force (AFWERX). LB's contract with AFWERX exemplifies the fact that projects funded by this program aren't always solely rooted in research. The projects AFWERX funds are problem solving and creative.
In April 2021, a few weeks after being notified of his AFWERX contract, LB knew he had to say goodbye to his job at a Wisconsin tribal nation, and the communities he was helping in South Africa to focus on the growing WiscLift enterprise. So he sat in on webinars to advance his knowledge and, on the advice of Todd Strother, Ph.D, Senior Technology Consultant at the CTC, he applied to APEX. APEX is an economic and business development organization providing regional assets and tools to support growth in northeast MN and northwest WI. Project Dragonfly, the military version of TeleLift, was born.
LB created a business called WiscLift as a means to distribute this cool drone technology. He is Co-founder and CEO and his wife, Greta Krueger-Williams, is Co-founder and Media Manager. Carl Rudebusch of N29 Capital Partners also helped this early-stage startup company blossom by providing financial support to their innovative product.
One goal of the new business was to sell to the Department of Defense (DOD) so their drone technology could help save lives of first responders. LB said, "We are doing something that others have tried, but have not yet been successful at. Our drones can lift 20 pounds for 30 days continuously." They have worked with other military programs as well. LB and his team were selected to present their technology at the Operation Tech Warrior program and at the National Guard Patriot Exercise in Fort McCoy, WI.
LB realizes getting the technology in front of young people is key to the future of the products. LB's 17-year-old son, Mac, who started as an intern, is now a network engineer for the company. In fact, Mac Williams is currently the best pilot of the TeleLift and Dragonfly drones in the world.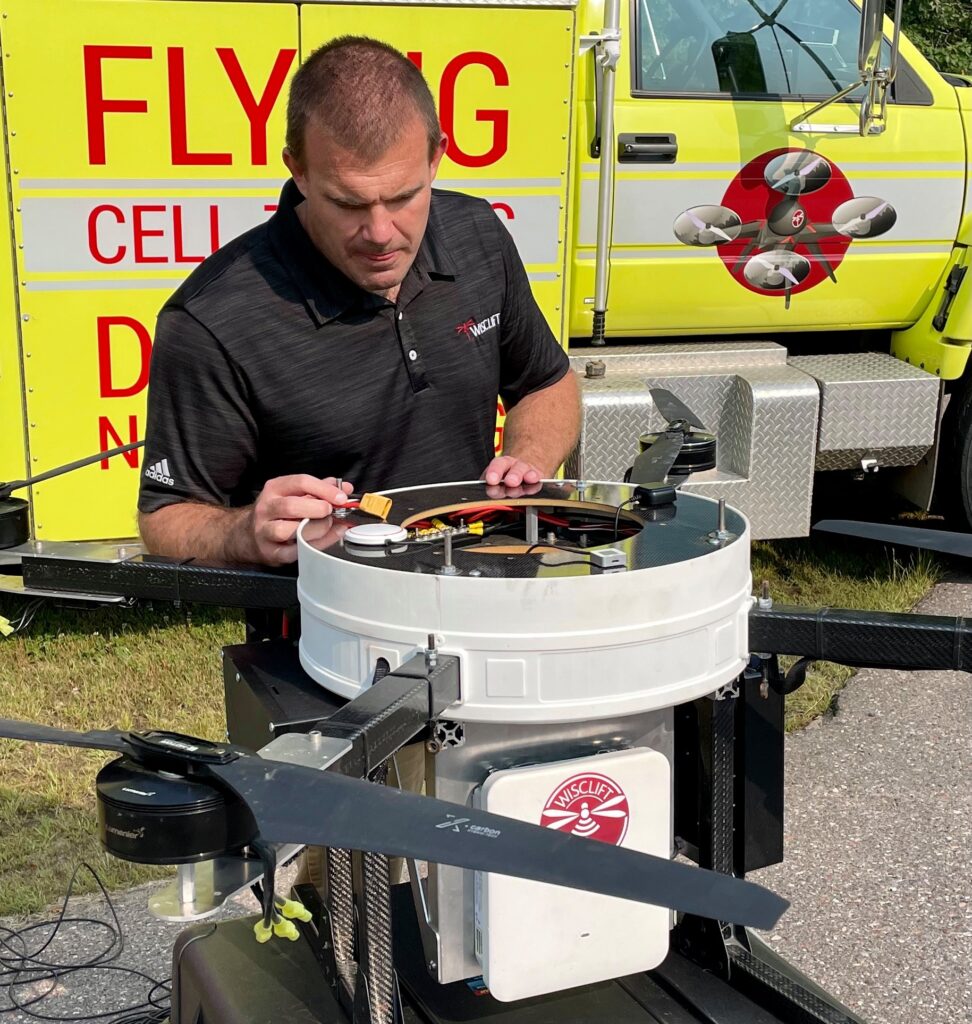 Future goals are definitely in LB's sight. He hopes to make the drone solution to network connectivity problems available to every county and tribal nation in Wisconsin by 2022. This dedicated entrepreneur is working hard to define the "dynamic networks" industry. Within five to ten years, he wants people nationwide to be able to take a network with them every day and in every situation. There are so many uses for the technology, it is no wonder LB and Greta are seeing such success. In addition to being able to help refugees, survivors, and first responders in crisis, their products can also be used in rural areas of Wisconsin experiencing broadband issues. LB also sees future application of the technology in national forests and schools. Learn more about how you could partner with AFWERX at our October 28th virtual event.
WEDC created and supports a number of SBIR/STTR support programs, facilitated by CTC, ranging from ideation consulting, proposal writing assistance to post-SBIR award matching grants and training. It is their goal to help Wisconsin business access the changing landscape of innovation funding. Learn more about the resources available to Wisconsin small businesses.
Interested in working with AFWERX or another DOD sector? Learn to network and effectively communicate with the DOD at our free workshop, SBIR Ready.