WEDC supported SBIR Ready (DoD Edition) is a PAID workshop series designed to help established small businesses access the changing landscape of programming & innovation funding now accessible through the Air Force and AFWERX program. With more than $2.4 billion in federal innovation funding available through the Dept. of Defense Small Business Innovation Research (SBIR)/Small Business Technology Transfer (STTR) Research programs, SBIR Ready provides the lift you need to partner, propose and win non-dilutive funding for developing and integrating technology. View current areas including medical, manufacturing, big data, culture change and more.
SBIR Ready 2022 is focused on helping existing businesses ideate and develop a new funding pitch to the Department of Defense.
---
The SBIR Ready (DOD Edition) program is a unique opportunity to support small businesses to explore, prepare, and submit competitive SBIR proposals within 6 months of participation. This 4+ session program will accomplish the following:
Support companies to understand the breadth of innovation opportunities
Arm companies with the ability to navigate current and emerging DoD innovation needs.
Lead companies to brainstorm innovation capabilities towards a competitive proposal.
Support companies to network with potential collaborators towards a competitive proposal submission.
Prepare companies in basic DoD proposal techniques with emphasis on the unique AFWERX program.
Direct companies to prepare proposal drafts including pitch decks, quad charts, technical volumes, and budgets.
Support companies to complete all required registrations for submissions.
Support companies towards submissions including contacting DoD topic managers and regular post-program one-on-one support until submissions.
Companies successfully completing the first four sessions are eligible for $750 with an additional $750 available after submitting a vetted DoD proposal within 6 months.
Program Outline:
SBIR Ready is a series of four, 1.5-hour workshops conducted in a small-group, virtual setting, with hands-on team and individual exercises. Following each session, companies meet individually with CTC to discuss 'homework' important for funding proposal preparation and submissions. Companies who satisfactorily complete 'homework,' receive a $750 grant with an additional $750 bonus opportunity upon submission of a competitive SBIR/STTR funding proposal.
---
All sessions run from 12:00-1:30 PM on their scheduled day.
Complete Sessions 1-4 for a $750 stipend.
Session 5 & 6 are optional and qualify you for an additional $750.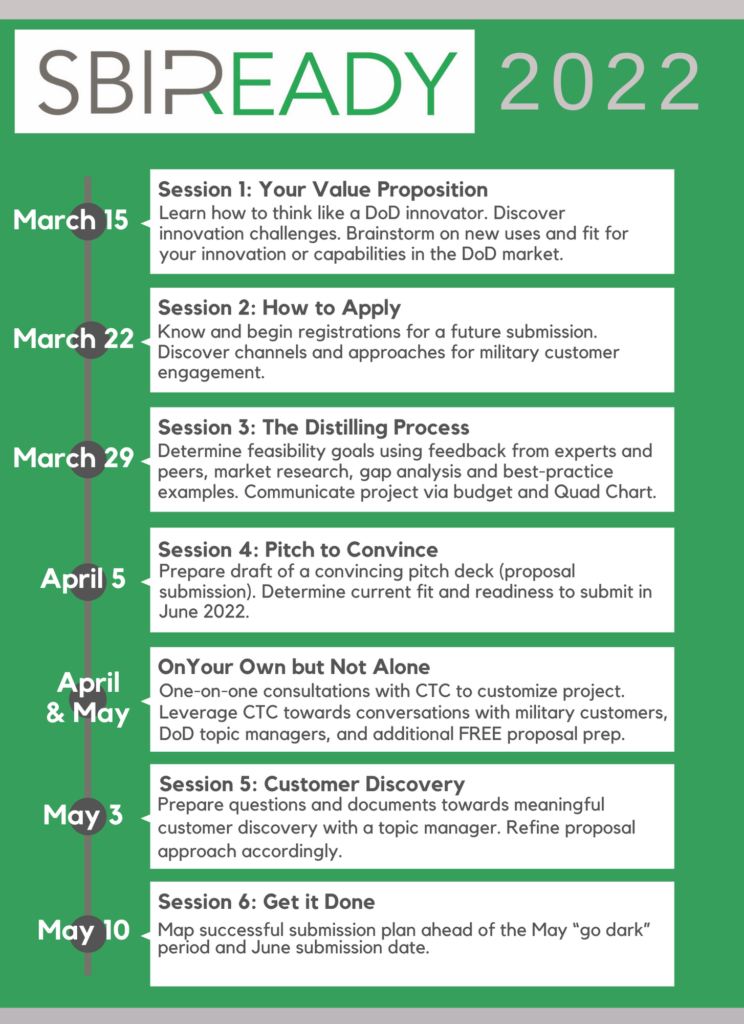 ---
Challenge Announcement
Competitive submission to the Air Force AFWERX SBIR/STTR programs require applicants to pitch a current, immediate, wide-spread and mission-specific challenge to address. In partnership with the WI Air National Guard, Wisconsin companies can propose innovative solutions against local challenges supporting the WI Air National Guard and addressing a larger national challenge. SBIR Ready applicants can apply with one of the existing challenges below or suggest your own open topics solutions and leverage ForwardWERX for Air Force networking via SBIR Ready. Contact us to learn more about these challenges.
Informational Session Recording
---
Request a Meeting
Need help navigating the process? Request a meeting with one of our consultants.
Learn more about the DoD SBIR/STTR Program